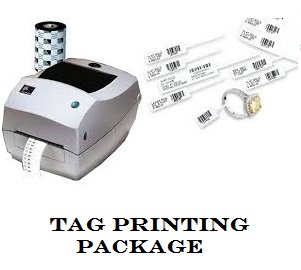 $650

Zebra Tag Printer
Tag Pro Software
3000 Tags
Thermal transfer ribbon
Zebra Tag Printer - our most popular model! One of the lowest priced, user-friendly printers in its class.
Tag Pro Software for windows software.
Features: no programming required.
Compatible with Windows based PCs, easy-to-use, point-and-click.
Menu selection, pre-designed label formats, prints both text & barcodes
Built-in database keeps track of label information, saved tag information can be retrieved and edited. Keep track of inventory and style information.
Thermal transfer tags - 3000 tags are included.
Thermal transfer ribbon
Parallel or USB printer cable
Free phone support
$950

Zebra Tag Printer.
Tag Pro Software.
3000 Tags.
Save and Display Item Images.
Barcode Scanner.
Zebra Tag Printer - our most popular model! One of the best printers in its class.

Tag Pro Software for windows software.
Features: no programming required. Compatible with Windows based PCs, easy-to-use, point-and-click Menu selection, pre-designed label formats, prints both text & barcodes, Built-in database keeps track of label information, saved tag information can be Retrieved and edited. Keep track of inventory and style information.

Thermal transfer tags - 3000 tags are included.
Thermal transfer ribbon
Parallel or USB printer cable
Save and display item images
Barcode Scanner
Free phone support
$1150

Software to keep track of the inventory, images and to print tags
Includes Tag printer
Barcode reader
Tags and ribbon
This package includes the software, tag printer, barcode reader and tags for a complete jewelry inventory, imaging and tagging system.
Enter all information related to each item: tag information, who you bought it from, vendor styles number, diamond, color stones and metal details for each style, etc.
Complete details of the inventory history.
Export the inventory details to Excel.
Save and display the picture for each item.
The package includes:
Zebra Tag Printer.
3000 tags and the ribbon. Tags can be steamed, or cleaned in ultrasound machine.
Barcode reader.
Software package.
Tech support.
DO MORE AND SEE MORE WITH OUR HIGH-PERFORMANCE TAG PRINTERS PACKAGES
Ishal Inc. extensive portfolio of product and solutions gives you smarter ways to track and manage your assets. With our barcode and RFID printer solutions, you can produce labels, receipts, documents or cards on-demand. Today, customers around the world and across multiple industries use our printers to know more about the assets and data that flow through their operations and make better decisions.