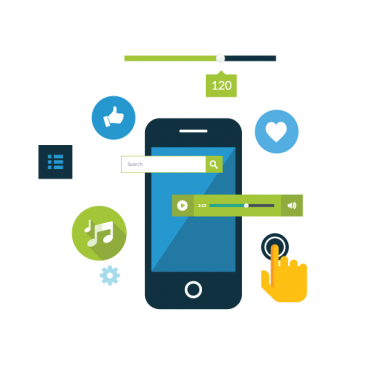 Mobile Websites and Applications
New channels and platforms emerge daily, and mobile is taking a strong lead.
The number of smartphone users is continuously growing and it far outnumbers PC users, which is why the possibility of reaching the audience of this channel should not be ignored. Turn your idea into highly converting & feature rich mobile application or website.
Mobile marketing offers a wide range of opportunities for interacting with users on a more personal level. Today, we can address a much more specific audience according not just to age, gender and location, but also to interests and mobile browsing data, as well as other factors that give the possibility to reach a specific target segment, within a specific audience profile.
Experts in developing websites, our implementation services are tailored to meet your individual needs. Both a mobile site and responsive design will optimize your site to be more appropriate for smaller screens; both will offer simpler navigation and faster load times.
We provide a bespoke analysis of your mobile development strategy tailored to meet business needs. Don't miss out on a huge business opportunity – go mobile!
Mobile First Design
We ensure a great browsing experience for all users with focused efforts on mobile and desktop.
Mobile Websites
We know the potential for mobile application and websites for business success that's why our mobile websites and apps are based on accurate targeting.
Mobile Apps
Design widely compatible, quality and performance-centric mobile apps of the future. Streamline routine tasks for optimum results.
Tell us about your project
Let us help you get your business online and grow it with passion
Contact Ishal Inc. and we will provide a Mobile Websites and Applications that will bring significant returns on investment.